Small Business Communication Solutions
As your small business grows, your communication systems should scale right alongside it. Our simple and robust communication solutions are a great option for small to midsize businesses looking to diversify their offerings and expand their output. 
From expanded opportunities for a more mobile workforce to increased engagement with new and existing customers, we offer a wide variety of benefits to your growing business.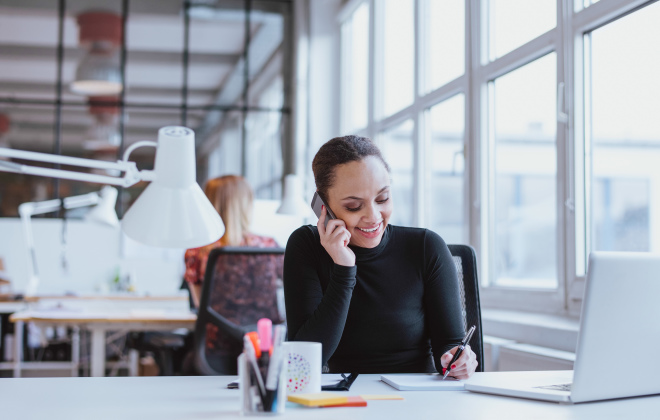 Scalable Communication Systems for Growing Businesses
Our cloud-based communication solutions help meet the evolving needs of your small business by streamlining processes and reducing overall costs—ultimately providing the opportunity and confidence you need to scale your business from the ground up.
Flexible communication technologies
If your communication system isn't set up to grow or scale, you're only hurting your opportunities and your bottom line. 
Our small business communication systems are flexible enough to adapt to your business's changing needs and effective enough to keep working right alongside your team.
Improve team collaboration
By improving your communications, you can give your customers, employees, and potential clients the ability to collaborate and communicate whenever and wherever the opportunity arises. 
From voice to video to online, there are ample ways to connect your small business. We make sure you don't miss out on a single one.
Streamline the conversation
Small businesses are scrappy and efficient—their communication systems should be as well. Our products are scalable and streamlined to allow your team to work smarter, not harder. 
With options to integrate seamlessly into applications you already use, improving your efficiency and performance may be easier and more affordable than you think.
Custom plans for custom budgets
Whether your business is a local insurance branch or a fast-casual restaurant concept, we design a custom communications plan that's based on your needs and budget—and nothing else. 
Our team is known for providing better, more personalized customer service than other companies, meaning no detail is left untouched and no opportunity is missed.
Why Towner Communications?
Towner is the number-one provider of cutting-edge telecommunication technology in Kansas City and the Midwest. Our team has experience working with businesses of all sizes to design customized and affordable communication solutions that just make sense. As a small business ourselves, we know what it takes to get the job done and done right.
With over 67 years of experience in telecom services, we know a thing or two about communication.
At the end of the day, we truly care about our customers and work hard to foster long-lasting relationships that make an impact.
By specializing only in phones, our streamlined services offer faster solutions for your small business.
We partner with industry leaders to provide top-notch services that enhance your productivity and your bottom line.
Power your small business with Towner
Let's work together to create a better communication solution for your team. Leave us your information and our team will reach out soon!