When Apple's FaceTime debuted in 2010, it signaled a new era of video
and online meetings communication. Very quickly, younger generations began embracing the
technology to the point that today, video chat is fast approaching text
messaging as the go-to personal communication tool for Millennials.
So when those younger generations entered the workforce in recent years,
so too did their lifestyles, dramatically impacting how each of us work. In
particular, their preference for video communication has led to a rise in the
popularity of video meetings. A 2018 Forrester research report showed that
74% of IT decision makers said they saw an increase in video conference
calls in the prior two years.
BENEFITS OF ONLINE MEETINGS
In many ways, video meetings have the potential to be even more productive than in-person meetings, with built-in capabilities for
file sharing, chat, and recording, among other features, that build a stronger experience before, during, and after each meeting. The
benefits of online meetings include:
The ability to connect
with colleagues,
partners, and
customers that simply
can't meet in person.
Travel cost reductions
from moving in-person
meetings to online.
Greater work/life
balance for workers,
who no longer need to
travel as often.
Easy collaboration with
internal and external
team members via
multimedia, including
voice, video, chat,
screen sharing,
document sharing, and
more.
Convenience:
the ability to connect
across multiple devices
anywhere in the world.
CHALLENGES OF ONLINE MEETINGS
The challenge for many workers today, however, is finding a video meeting solution that addresses the demands of the shifting workforce. With the consumerization of IT, workers demand more than traditional communications tools can deliver. In particular, they want high-quality HD audio and video meetings that feature a simple, intuitive user interface. They also need a meeting solution that works—fast. In the RingCentral survey, 39% of respondents said they wanted a single click to join online meetings, reflecting that current solutions require downloads that frequently cause delays for attendees, which significantly hampers productivity.
Just as importantly, workers today have expressed a strong preference to have their meeting solution integrated with their other key modes of communication, namely, messaging and phone. This consolidation of communication reflects the faster pace of work today and the need to both communicate and collaborate in real time across communication modes and devices, preferably with a single click. It also reflects the need to be able to switch communication modes on the fly—from
a chat to a phone call or a chat to an online meeting—with a single click, without losing context or momentum.
It also reflects the need for workers to have a single platform that stores not only conversations and documents, but context—a powerful element of the new communications experience that makes online meetings part of a rolling conversation (across voice, chat, and meetings) that builds history and knowledge. As workers move from project to project at lightning speed, unified platforms for communication ultimately store a wealth of information around topics in
understandable and easy-to-search formats that allow team members to get up to speed much more quickly than ever before. By seamlessly integrating voice, messaging, and meetings on one seamless platform, each method of
communication essentially becomes vastly more powerful than the sum of the parts. This sort of dexterity requires a cloud solution, which explains the rise of unified communications as a service (UCaaS) solutions in recent years. In an on-premises solution, maintaining the sophisticated integrations necessary to develop and innovate this seamless communications experience is simply too resource- and cost-intensive for modern organizations to support. It's no wonder then that Synergy Research Group has predicted that UCaaS subscribers will grow by an average annual rate of 26% over the next five years, primarily driven by enterprise customers
RINGCENTRAL VIDEO:
MEET FASTER, WORK TOGETHER
Among current communications providers, RingCentral's long cloud history across voice, messaging, and meetings makes us ideally suited to build a meetings solution that addresses the concerns above. RingCentral Video delivers a fast, smart, and open solution that distinctly fits today's agile workforce. It delivers an essential video meeting experience as part of our cloud-based, integrated RingCentral Office® solution, which includes team messaging and phone capabilities.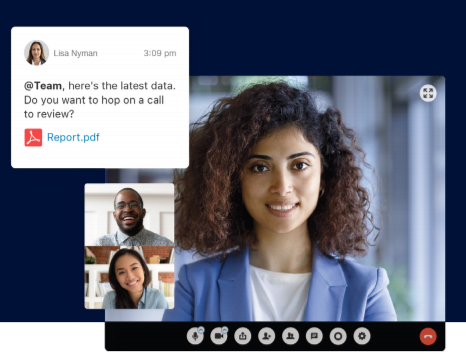 Enterprise-grade video conferencing
RingCentral Video delivers a high-quality HD audio and video experience for users, with up to 720p resolution video quality and 1080p resolution for content. Our enterprise-grade platform provides global coverage for anywhere, anytime, any-device collaboration with robust security and compliance protocols to protect your data.
No downloads, no waiting
Ever had that experience of clicking on a meeting link, only to find you've got to download something to join? Or what about waiting to start your meeting because others are having that same experience? In your busy workday, you don't have time to wait. RingCentral Video is completely browser-based, so there are no downloads—no waiting while attendees fuss with incompatible devices and slow downloads. Just click and you're in. RingCentral Video offers the rich, HD-quality experience you expect, including screen sharing and annotation, with no hassle.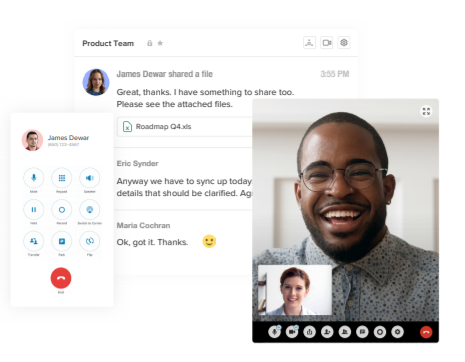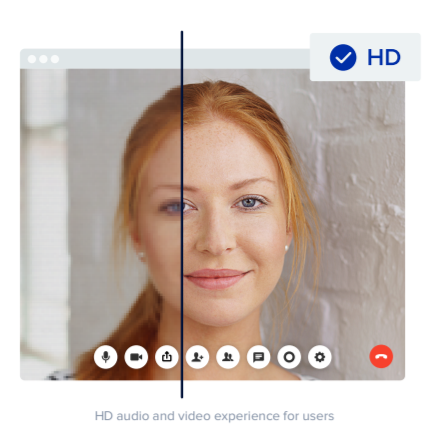 A clean, intuitive user interface
RingCentral Video's clean user interface makes it simple to understand who's speaking at any time and also has the ability for any attendee to use an avatar. Users can quickly adjust screen sizes, view participants, and chat with individual
attendees or the entire group.
One app for all your communications
RingCentral Video is part of a seamlessly unified communications experience across desktop and mobile—that includes phone, messaging, SMS, and fax as well. Because it's one integrated communications app for phone, messaging, and video meetings, RingCentral delivers a powerful contextual experience that begins prior to your meeting and extends well beyond it.